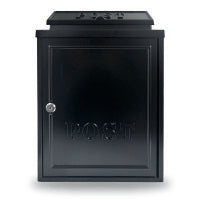 Manor Black Cast Aluminium Postbox
VAT included.
DESCRIPTION
This wall mounted post box has a cast aluminium door which is finished in black.
The letterflap, on top of the box, is large enough to take an A4 envelope, it is also hinged and sloped to act as a rain cover.
The front retrieval door is hinged allowing really easy access to the box inside. For added security the front opening door has an integral lock .
BACK TO TOP