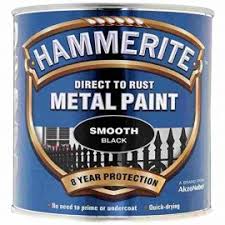 Hammerite Metal Paint 750ml - Range of colours available
VAT included.
DESCRIPTION
Durable, corrosion resistant decorative coating for ferrous and non-ferrous metals, certain plastics and wood. This is a brilliant gloss finish which will retain its sheen for years.
Can be applied directly onto rusty metal.
No need for primer or undercoat.
Corrosion resistant.
Hammerite forms a superior barrier that not only seals out moisture but gives long lasting protection both inside and outside.
BACK TO TOP